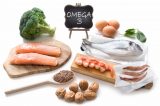 Written by: Nicole Lindel
What is all the hoopla over fish? Why is it so good for you, and what makes seafood different than other protein sources? The answer? Omega-3 fatty acids.
Omega-3 fatty acids are essential fatty acids that are required for normal body functioning. However, we must make a conscious effort to include rich sources of omega-3 fatty acids in our diets because our bodies are not capable of doing so.
Good sources of omega-3 fatty acids include salmon, trout, sardines, anchovies, herring, Pacific oysters, Atlantic and Pacific mackerel, algae, and krill. Other sources include certain plants and nut oils. According to the American Heart Association and the USDA, it is recommended that we consume seafood at least 2 times a week, or 8 ounces per week (U.S. Department of Agriculture, 2016; American Heart Association, 2016).
Not only is seafood a great source of essential fatty acids, but also is a great source of protein. Protein is imperative for the development of bones, muscles, cartilage, skin, and blood. It also functions as a building block for enzymes, hormones, and vitamins. Seafood contains a variety of micronutrients, including B vitamins, iron, magnesium, and zinc. B vitamins play a significant role in our nervous system and in the formation of red blood cells, while magnesium and zinc play an important role in our bone health and immune function, respectively (Ehrlich, 2015). Lastly, seafood's rich source of iron is of particular interest to women, who lose iron during menstruation.
Omega-3 fatty acids are highly concentrated in the brain and appear to be important for cognition, behavior, and fetal growth and development. With that being said, it is important for pregnant women to include omega-3 fatty acids in their diet to protect their child from developing vision and nerve problems (Ehrlich, 2015).
Although the research is not conclusive, it is suggested that omega-3 fatty acids are beneficial in clinical settings. For example, research has shown its role in preventing heart disease, reducing inflammation, and lowering the risk of cancer and arthritis (Ehrlich, 2015). Therefore, it is not surprising that roughly 8 percent of U.S. adults — nearly 19 million people — used fish oil in the last month (American Heart Association, 2016).
For those who are deficient in omega-3 fatty acids, symptoms of fatigue, poor memory, dry skin, heart problems, mood swings or depression, and poor circulation may become noticeable. To prevent deficiency, adequate levels of omega-3 fatty acids can also be achieved with fish oil supplementation. Epic4Health provides consumers with reputable and FDA regulated supplementation, including highly purified and varied potencies of EPA and DHA omega-3 fatty acids. For more information, visit www.epic4health.com.
Ehrlich, S. D. (2015). Omega-3 fatty acids. Retrieved from http://www.umm.edu/health/medical/altmed/supplement/omega3-fatty-acids/.
U.S. Department of Agriculture (2016). All About the Protein Food Group. Retrieved from https://www.choosemyplate.gov/protein-foods
American Heart Association. (2016). Fish and Omega-3 Fatty Acids. Retrieved from http://www.heart.org/HEARTORG/HealthyLiving/HealthyEating/HealthyDietGoals/Fish-and-Omega-3-Fatty-Acids_UCM_303248_Article.jsp#.WTGphYWcG3A