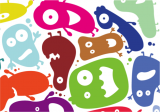 Everyone is talking about probiotics and how great they are— but does anyone know why? Why is everyone seeking out probiotics? What's so great about them? Better yet—what are they?
The World Health Organization defines a probiotic as "live microorganisms which when administered in adequate amounts confer a health benefit on the host." For a product to be considered a probiotic, Lynne McFarland, an associate professor at the University of Washington explains, "…they have to be alive. They can be a bacteria or a yeast. They have to be used in an adequate dose, and they have to have some proven beneficial health effect."
Data from the 2012 National Health Interview Survey (NHIS) indicates that approximately 4 million US adults, and 300,000 children between the ages of 4 and 17, had used either pre- or probiotics in the past 30 days since taking the survey. Furthermore, pre- and probiotics were found to be the third most commonly used dietary supplement among adults, other than vitamins and minerals (1).
The Scientific Literature: Proposed Benefits, Safety, and Efficacy of Probiotics
The probiotic craze has led researchers on a hunt to determine its proposed benefits. Such benefits include its ability to alleviate gastrointestinal disturbances and symptoms of lactose intolerance, enhance nutrient bioavailability, and increase resistance to pathogens, infection, and inflammation—thus reducing Irritable Bowel Syndrome, necrotizing enterocolitis in preterm infants, and respiratory infections.
New findings have shown a benefit of probiotics on immunity, urogenital, and the respiratory tract. In respect to oral health, lactobacilli and bifidobacteria are probiotic microorganisms helpful in the prevention and treatment of oral infectious diseases, including dental caries and periodontal disease. These microorganisms are thought to inhibit oral pathogens, withstand oral environment, and antimicrobial action (2).
The American Journal of Clinical Dermatology published recent findings on probiotic use for the treatment and prevention of adult dermatological diseases. The findings suggest that there is promise with some strains of probiotics for symptomatic and clinical improvement in atopic dermatitis, and as an adjunctive treatment with antibiotics for acne (3).
Additionally, the Seminars in Fetal and Neonatal Medicine published recent findings on probiotic use during pregnancy, lactation, and postnatal life. This study found probiotics to be a "safe and feasible method to alter the maternal and neonatal microbiome, thus improving pregnancy and neonatal outcomes," (4).
More and more research has been looking at the role of probiotics in the prevention and management of diabetes. For example, a meta-analysis from the Medical Science Monitor demonstrated that probiotic supplementation was associated with significant improvements in HbA1c and fasting insulin in type 2 diabetics (5).
Additionally, the Journal of Pediatric Endocrinology and Metabolism found probiotics to have beneficial effects on the reduction of glucose, insulin and HbA1c for diabetes, especially for type 2 diabetes (6).
Further evidence in the Current Diabetes Reviews supports the hypothesis that probiotics can be effective in the prevention and management of diabetes (7).
Research has found probiotics to be safe for infants, children, adults, and older adults, but caution is advised in immunologically vulnerable populations (8). If you or someone you know is interested in supplementing with a probiotic, seeking out medical advice from a healthcare professional is recommended.
Probiotics can be found in food, dietary supplements, and even in cosmetic products such as skin cream (1). Foods that are known for its source of probiotics include sauerkraut, kimchi, certain yogurts and cheeses, and other dairy products, such as Lactobacillus milk or kefir.
Visit our website to learn more about probiotics and how our products can best serve you!
References
(1) Probiotics: In Depth. National Institutes of Health Web site. https://nccih.nih.gov/health/probiotics/ introduction.htm Updated July 31, 2018. Accessed August 6, 2018.
(2) Rastogi P, Saini H, Dixit J, Singhal R. Probiotics and oral health. Natl J Maxillofac Surg. 2011; 2(1):6-9.
(3) Notay M, Foolad N, Vaughn AR, Sivamani RK. Probiotics, Prebiotics, and Synbiotics for the Treatment and Prevention of Adult Dermatological Diseases. Am J Clin Dermatol. 2017; 18(6):721-732.
(4) Sohn K, Underwood MA. Prenatal and postnatal administration of prebiotics and probiotics. Semin Fetal Neonatal Med. 2017; 22(5):284-289.
(5) Yao K, Zeng L, He Q, Wang W, Lei J, Zou X. Effect of Probiotics on Glucose and Lipid Metabolism in Type 2 Diabetes Mellitus: A Meta-Analysis of 12 Randomized Controlled Trials. Med Sci Monit. 2017; 23:3044-3053.
(6) Wang X, Juan QF, He YW, Zhuang L, Fang YY, Wang YH. Multiple effects of probiotics on different types of diabetes: a systematic review and meta-analysis of randomized, placebo-controlled trials. J Pediatr Endocrinol Metab. 2017; 30(6):611-622.
(7) Rad AH, Abbasalizadeh S, Vazifekhah S, Abbasalizadeh F, Hassanalilou T, Bastani P, Ejtahed HS, Soroush AR, Javadi M, Mortazavian AM, Khalili L. The Future of Diabetes Management by Healthy Probiotic Microorganisms. Curr Diabetes Rev. 2017; 13(6):582-589.
(8) Wilkins T, Sequoia J. Probiotics for Gastrointestinal Conditions: A Summary of the Evidence. Am Fam Physician. 2017; 96(3):170-178.
---
Written by Nicole Lindel, MS in Nutrition Education from Columbia University