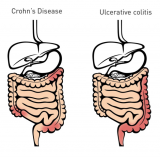 How many are affected by the disease (1)?
Approximately 1.6 million Americans have Inflammatory Bowel Disease (IBD) with as many as 70,000 new cases diagnosed each year (1). With a steady rise in the number of people living with IBD, it is important to gain a better understanding of the disease through scientific and evidence-based research.
What is it?
Inflammatory bowel disease (IBD) is characterized by chronic inflammation of the gastrointestinal (GI) tract and often leads to intestinal damage and distress. This disease is the umbrella term that covers conditions such as Crohn's Disease and Ulcerative Colitis (2).
Crohn's disease can affect any part of the GI tract but most commonly affects the end of the small intestine, also known as the ileum, where it joins to the colon. Crohn's disease may appear in "patches," affecting only some areas of the GI tract while leaving others untouched (1). On the other hand, inflammation resulting from Ulcerative Colitis is confined to the large intestine and the rectum (1).
While the exact cause of IBD is unknown, we know this disease results from a defective immune system. Instead of the immune system protecting our body from foreign invaders, it responds abnormally to environmental triggers, leading to gastrointestinal inflammation. However, there seems to be a genetic component as well. Someone with a family history of IBD is more likely to develop this dysfunctional immune response than someone without a family history of IBD (2).
According to the Centers for Disease Control and Prevention (2), symptoms of IBD include:
Persistent diarrhea
Abdominal pain
Rectal bleeding/bloody stools
Weight loss
Fatigue

Nutritional deficiencies are common in patients with IBD. If diet alone fails to provide you with the nutrients you need, dietary supplementation may be advantageous (3).
Thiamine
Due to its role in energy metabolism, thiamine may also play a role in improving symptoms of fatigue in patients with IBD. In fact, Costantini and Pala (2013) showed that 600 mg to 1,500 mg of daily thiamine supplementation completely alleviated symptoms of fatigue in 10 out of 12 subjects, with the remaining 2 subjects reporting a significant improvement (4).
Vitamin B12
A 2016 systematic review indicates that Crohn's Disease patients with ileal resections greater than 20 centimeters should supplement with vitamin B12 (3).
Iron
Iron supplementation should be used in IBD patients with iron deficiency anemia and its route of administration should be tailored to each individual patient (3, 4).
Vitamin D and Calcium
Recent publications support the notion that vitamin D3 supplementation can act as a means of relapse prevention. Furthermore, long-term high-dose vitamin D3 supplementation has been shown to significantly reduce disease score in active IBD.
Although vitamin D3 shows promise in its effectiveness in reducing IBD, the research is limited. More systematic studies need to be conducted to identify factors determining the clinical response to vitamin D and calcium supplementation. With that being said, repletion of vitamin D to normal levels in IBD patients is the only recommendation that can currently be made (3, 5).
Zinc
It has been estimated that 15% of IBD patients are affected by zinc deficiencies and are often associated with poor clinical outcomes. However, these outcomes, such as increased risk of subsequent hospitalizations, surgeries, and disease-related complications, have been shown to improve with normalization of zinc through diet and/or supplementation (4).
Zinc supplementation is also recommended for IBD patients who experience significant diarrhea (3).
Prebiotics
Prebiotics appear to be a basic component to maintain healthy gut flora, but the research is limited on its role in the treatment of IBD (5).
Yet, a 2010 double-blind randomized controlled trial investigating the effects of a synbiotic supplement (the combination of a prebiotic and probiotic) in 35 patients with Crohn's Disease concluded that synbiotic supplementation seems to be a plausible new alternative therapy for those suffering from Crohn's Disease (Steed, 2010).
Curcumin
Curcumin appears to be effective in reducing both the symptoms and the inflammatory indices in IBD patients, with no apparent side effects (3). However, further research is needed.
Green Tea
Although the studies are limited, green tea extract may be effective in inducing remission in IBD patients (3).
Recommendations
"Vitamin and mineral deficiencies are common among inflammatory bowel disease (IBD) patients and warrant supplementation to restore recommended values," (4). Such deficiencies are likely to contribute to disease severity and associated comorbidities (4).
As there is no one approach in managing IBD, treatments must be individualized. Factors that influence treatment include (1):
Disease severity
Anatomic location of disease
Previous response to medication
Side effects of medication
Comorbidities
Aside from treatments aimed at diet and supplementation, medication and/or surgery (although uncommon) can be used for patients with IBD (2).
For more information about IBD, visit Centers for Disease Control and Prevention and Crohn's & Colitis Foundation.
References
(1) Crohn's & Colitis Foundation. IBD and Irritable Bowel Syndrome Factbook, Copyright 2014. http://www.crohnscolitisfoundation.org/assets/pdfs/updatedibdfactbook.pdf
(2) Inflammatory bowel disease (IBD). Centers for Disease Control and Prevention Website https://www.cdc.gov/ibd/what-is-ibd.htm Updated March 22, 2018. Accessed August 1, 2019.
(3) Rossi RE, Whyand Tara, Murray CD, Hamilton MI, Conte D, Caplin ME. The role of dietary supplements in inflammatory bowel disease: a systematic review. European Journal of Gastroenterology & Hepatology. 2016; 28:1357-1364.
(4) Ghishan FK, Kiela PR. Vitamins and Minerals in Inflammatory Bowel Disease. Gastroenterology Clinics of North America. 2017; 46:797-808.
(5) Parian A, Limketkai BN. Dietary Supplement Therapies for Inflammatory Bowel Disease: Crohn's Disease and Ulcerative Colitis. Current Pharmaceutical Design. 2016; 22:180-188.
---
Written by Nicole Lindel, MS in Nutrition Education from Columbia University