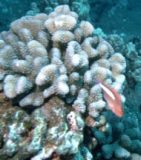 For what its worth, here's our take on the Coral Calcium phenomenon.
Maybe the word "phenomenon" – as in "marketing phenomenon" — has already given you an idea where we stand as claims abound in advertising that Coral Calcium can virtually gt;"cure" any number of diseases including cancer, diabetes, heart disease, arthritis, Alzheimer's – just about every condition you can imagine. As my father always told me, "If it sounds to good to be true, it probably is!"
The unique selling point for this product is based on the fact that people living in Okinawa are long lived and have lower disease rates than Western populations. Based on this fact, the claim made by those selling Coral Calcium is that the drinking water on the island of Okinawa contains high levels of coral calcium and that this fact is the reason for the Okinawans health and longevity – leaving out all other factors including an active lifestyle and lifetime diets high in fresh fruits, vegetables, soy, omega-3 fatty acids from fresh fish and more. But, selling healthy lifetime habits is a lot harder than selling an "exotic" supplement with a high price tag.
The Pharmacist's Letter, December 2002, Vol 18, Number 18213 said: "there's no evidence that coral calcium is absorbed better than any other calcium supplements…and there's no evidence that the magnesium content of coral calcium provides any clinical advantage…there's no reason to pay three times as much for coral calcium."
We couldn't agree more. Don't get caught up in the hype. Because, "If it sounds to good to be true, it probably is!"
UPDATE: On June 11, 2003 the Federal Trade Commission (FTC) charged the marketers of the dietary supplement called Coral Calcium Supreme with making false and unsubstantiated claims about the product's health benefits.
Also, in June 2003, ConsumerLab.com released its review of calcium supplements and stated that Robert Barefoot Coral Calcium contains quantities of lead above that permitted by the state of California. In a comment on the findings, the President of ConsumerLab.com, Tod Cooperman, said: "We have received many questions from consumers about coral calcium. Coral calcium is not inherently better or worse than other types of calcium. But it is sadly ironic that the most advertised brand also had the most lead."