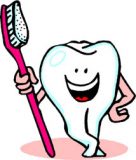 Columbia University Medical Center Research Illustrates
Connection Between Periodontal Disease and Atherosclerosis
NEW YORK, NY, February 7, 2005 – A new study by researchers at Columbia University Medical Center provides the most direct evidence to date that preventing gum disease could significantly improve your chances of avoiding vascular problems.
The study, which appears in the February 8 edition of the American Heart Association's publication Circulation, shows that people with gum disease are more likely to suffer from atherosclerosis – a narrowing of blood vessels that can lead to stroke or heart attack.
Previous studies have suggested a relationship between periodontal disease and vascular disease, but they have relied on surrogate markers for periodontal disease, such as tooth loss or pocket depth. This is the first study to examine the microbiology of periodontal infection and positively connect it to atherosclerosis.
"This is the most direct evidence yet that gum disease may lead to stroke or cardiovascular disease," said Moïse Desvarieux, M.D., Ph.D., assistant professor of Epidemiology at Columbia University Medical Center's Mailman School of Public Health and lead author of the paper. "And because gum infections are preventable and treatable, taking care of your oral health could very well have a significant impact on your cardiovascular health."
Columbia researchers measured the bacteria levels in the mouths of 657 people who had no history of stroke or myocardial infarction. They also measured the thickness of the subjects' carotid arteries – the artery that are measured to identify atherosclerosis. The researchers found that people with a higher level of the specific bacteria that causes periodontal disease also had an increased carotid artery thickness, even after taking other cardiovascular risk factors into account.
Desvarieux and his colleagues showed that in these people, atherosclerosis is associated specifically with the type of bacteria that causes periodontal disease, and not with other oral bacteria. They confirmed this by assessing the levels of three different groups of microbes – those that are known to cause periodontal disease, those that are thought to possibly cause periodontal disease, and those that are not connected to the disease. The relationship between atherosclerosis and oral bacteria only existed for bacteria causally related to periodontitis.
The research is part of the NIH- funded INVEST (Oral INfections and Vascular Disease Epidemiology STudy) at Columbia University Medical Center and the University of Minnesota and the NINDS-funded Northern Manhattan Study.
According to Dr. Desvarieux, one possible explanation for the link is that the bacteria that cause the gum disease may migrate throughout the body via the bloodstream and stimulate the immune system, causing inflammation that results in the clogging of arteries.
"It is important that we have shown an association between specific periodontal pathogens and carotid artery thickness that is unique and unrelated to other oral bacteria", said Panos N. Papapanou, D.D.S., Ph.D., professor and chair of the Section of Oral and Diagnostic Sciences and director of the Division of Periodontics, Columbia University School of Dental & Oral Surgery, and a co-author on the study whose laboratory performed the periodontal microbiological analysis.
"The measurement of carotid arteries thickness, which has been shown to be a strong predictor of stroke and heart attacks, was performed in our ultrasound lab without knowledge of the subjects' periodontal status to ensure an unbiased evaluation of cardiovascular health," said Ralph L. Sacco, M.D., M.S, associate chair of Neurology, professor of Neurology and Epidemiology, and director of the Stroke and Critical Care Division of the Columbia University College of Physicians and Surgeons and a co-author of the study.
"This study is an example of the multidisciplinary alliance of strong epidemiologic design and methods, microbiology and imaging," said Dr. Desvarieux, who is principal investigator of the study. "We will continue to study these patients to determine if atherosclerosis continues over time and is definitively associated with periodontal disease."
Also participating in the study were David Jacobs, Ph.D. professor of Epidemiology at the University of Minnesota, Tatjana Rundek, MD, and Bernadette Boden-Albala, assistant professors of neurology at Columbia and Ryan Demmer, a doctoral student at the University Of Minnesota who works with Dr. Desvarieux.