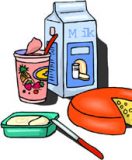 Low-fat dairy foods may help reduce risk of type 2 diabetes
Study finds men who consume more dairy products have lower incidence of diabetes
BOSTON – May 9, 2005 – The consumption of low-fat dairy foods may reduce men's risk of developing type 2 diabetes, according to a study in the May 9 issue of Archives of Internal Medicine. The report from researchers at Massachusetts General Hospital (MGH), Harvard School of Public Health (HSPH) and Brigham and Women's Hospital (BWH) – the first large-scale, prospective examination of a relationship between dairy intake and diabetes risk – analyzes data from the HSPH-based Health Professionals Follow-up Study.
"Our study found that men consuming higher levels of dairy products, especially low-fat dairy foods, had a significantly lower risk of developing type 2 diabetes during a 12-year period," says Hyon Choi, MD, DrPH, director of Outcomes Research in the MGH Rheumatology Unit, the paper's lead author. "However, individuals should consider both the benefits and risks of dairy foods before considering changing their diets."
Lifestyle factors such as diet, exercise and weight are established risk factors for type 2 diabetes. Several recent studies have suggested that dairy consumption may help control weight and blood pressure and reduce the risks of health problems such as coronary artery disease and gout. Other research has implied that dairy foods could help prevent insulin resistance, a precursor of type 2 diabetes. The researchers conducted the current study to directly examine the relationship between dairy consumption and diabetes.
Initiated in 1986, the Health Professionals Follow-up Study has gathered information regarding the relationship between dietary factors and several illnesses from more than 50,000 men employed in the health professions. Every two years participants complete questionnaires regarding their diseases and health-related topics like smoking and exercise, and every four years the questionnaires also collect comprehensive dietary information.
The current study evaluated information from more than 41,000 participants who did not have diabetes, cardiovascular disease or cancer when the study began. Those men who reported developing type 2 diabetes during the study period completed a supplementary survey, which confirmed the diagnosis in about 1,200 participants. The researchers then analyzed the dietary information all participants provided in 1986, 1990 and 1994 to determine how diet related to their risk of developing diabetes.
Results showed that those men consuming higher levels of dairy foods had significantly less risk of developing type 2 diabetes than did those consuming the lowest levels, and further analysis showed the risk reduction was almost exclusively associated with low-fat or non-fat dairy foods. In general, each serving-per-day increase in dairy intake resulted in a 9 percent reduction in the risk of developing the disorder. Controlling for consumption of several other types of food, activity level and family history did not change the association.
"Additional studies will be required both to confirm this relationship and to see if the results apply to women or to men younger than this group, who were in their 50s when they joined the study," says Choi. "Another question to be investigated would be whether adjusting dairy intake could be helpful to people with established type 2 diabetes, and the mechanism behind any relation between dairy intake and diabetes risk also needs to be clarified."
Dr. Choi is an instructor in Medicine at Harvard Medical School. His co-authors are senior author Frank Hu, MD, PhD; Walter Willett, MD, DrPH; Meir Stampfer, Md, DrPH; and Eric Rimm, ScD; all of HSPH and the Channing Laboratory at BWH. The study was supported by grants from the National Institutes of Health.
Massachusetts General Hospital, established in 1811, is the original and largest teaching hospital of Harvard Medical School. The MGH conducts the largest hospital-based research program in the United States, with an annual research budget of more than $450 million and major research centers in AIDS, cardiovascular research, cancer, cutaneous biology, medical imaging, neurodegenerative disorders, transplantation biology and photomedicine. In 1994, MGH and Brigham and Women's Hospital joined to form Partners HealthCare System, an integrated health care delivery system comprising the two academic medical centers, specialty and community hospitals, a network of physician groups, and nonacute and home health services.