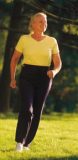 We recently received an inquiry from a customer, (age 75), wanting to know if our Physicians Rx Complete Formula would slow down the aging process and/or help with mental capabilities such as memory.
I felt a bit out of my depth in attempting to answer such a broad ranging question so I passed the inquiry along to one of the senior scientists at Tishcon Corp. I received the Healthy Aging­ Here's How reply below which I feel would benefit a lot of us, myself included.
Healthy Aging Here's How
A good balanced low salt diet based on the daily consumption of fruits, (especially berries), vegetables, whole grains, nuts, fish, lean poultry, garlic, onions, plenty of pure water, a judicious use of dietary supplements including Physicians Rx Complete, Q-Gel CoQ10, Alpha Lipoic Acid, L-Carnitine, and Omega Gel high potency Omega 3 ¨C along with a regular (daily) walking schedule should go a long way in slowing down the aging process.
Other Healthy Aging promoters:

* An occasional glass of red wine
* The yellow east-indian spice called Turmeric
* An occasional treat of Dark chocolate

* Extra Virgin Olive Oil and Balsamic Vinegar
In addition, refrain from consuming sugar laden foods, saturated fats and refined flours. Maintaining a loving relationship, good friendships, daily meditation (15 to 20 minutes), reading and regularly solving crossword puzzles are also important in ensuring Healthy Aging.
Smoking: If you are presently smoking… STOP SMOKING! If you don't smoke, don't start!
Do not underestimate the importance of regular medical (physical and dental) checkups and take your prescribed meds regularly. The rest is in HIS hands!