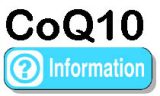 Systemic hypertension, (high blood pressure), affects more than 60 million adults in the United States. Worldwide, it is one of the most common risk factors for cardiovascular morbidity and mortality.
A randomized, double-blind, placebo-controlled clinical trial of Coenzyme Q10 in Isolated Systolic Hypertension was recently conducted at the Department of Veterans Affairs Medical Center in Boise, Idaho. The conclusion reached at the end of this twelve week study was that CoQ10 may be safely offered to hypertensive patients as a treatment option. The CoQ10 used in this study was our 60mg Q-Gel Ultra.
85 patients were enrolled in the study and 80 completed the full 12 weeks (44 men and 36 women). Blood pressures were monitored twice a week between 8:00 AM and 11:00 AM by the same nurse. The project was reviewed and approved by the Institutional Review Board of St. Luke's Regional Medical Center, Boise, Idaho.
In the study, patients were randomized to receive twice daily administration of 60mg Q-Gel Ultra Coenzyme Q10 soft gels which also contain 150 IU of Vitamin E. The placebo group received a similar appearing soft gel containing Vitamin E alone.
RESULTS: The average reduction in systolic blood pressure (SBP) in the Q-Gel CoQ10 treated group was 18. (Before SBP was 165.1 AFTER SBP was 147.3) In the Placebo group the numbers were: Before SBP was 164.4 AFTER SBP was 162.7).
Treatment with the CoQ10 was well tolerated and side effect rates were comparable to those in the placebo group. The CoQ10 achieved a reduction in blood pressure in 55% of patients which is less than some prescription drugs. However, Coenzyme Q10 is well tolerated and has a high therapeutic index. The lack of any antihypertensive response in 45% of the study participants suggests the possibility of a threshold mechanism of action. Study participants seemed either to respond well or not at all.
SUGGESTION: If you are concerned about hypertension you may want to discuss CoQ10 with your local healthcare professional as an alternative or complementary form of treatment. There are no contraindications to taking CoQ10 along with other prescription medications. And per the results of this study, you have at least a 50/50 chance that it could significantly help in controlling hypertension. If CoQ10 can help lower your SBP 15 or 20 points, that just might be enough to keep you off prescription meds or keep you away from higher dosages and their ever more likely unwanted side effects.